Nifty Outlook
22/03/2017
Nifty

 Spot immediate resistance at 9118 above which this move extended till 9150/9179 Levels, Sustain above 9179 NS  will face next resistance @ 9212 levels.
Down side below 9089 Nifty Spot will take immediate support around 9056 & 9018 Levels.  Sustain below 9018 NS will take supports around 8997 levels.
F&O Analysis
No major changes in FII data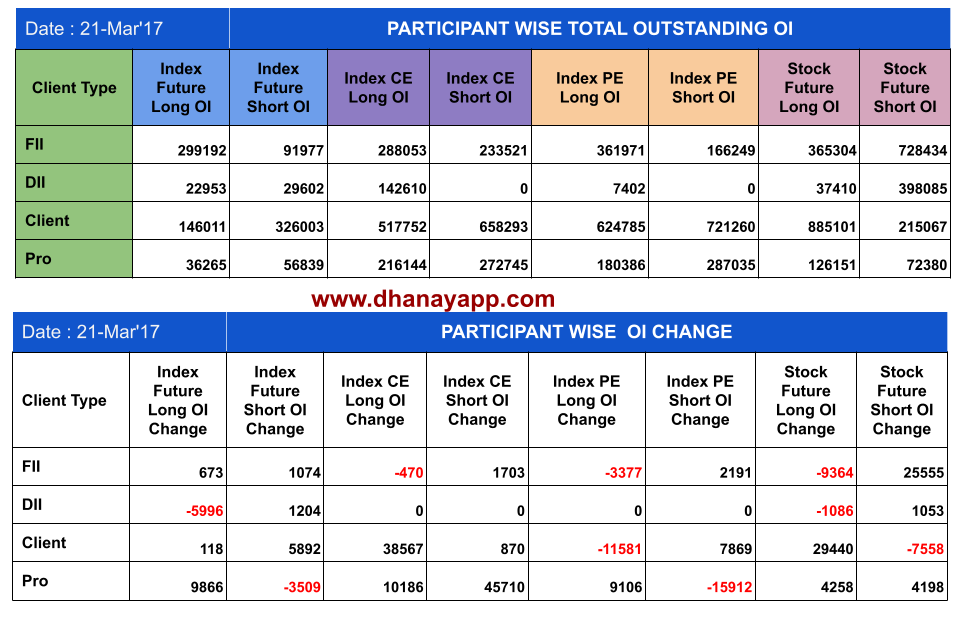 Disclaimer – DhanaYapp.Com is in respect with SEBI's Research Analyst 2014 regulation. SEBI has asked individual analysts to register with SEBI before making recommendations or expressing views on securities or public offer. However SEBI has allowed comments on general trends in Security markets, discussion on broad based Indices, commentaries on Economic, Political and General market condition and Technical Analysis relating to demand and supply in a Sector or an Index. At T DhanaYapp.Com w.e.f 1st December 2014, all posts will be made in compliance with new regulation of SEBI.
No Author at DhanaYapp.Com is registered with SEBI or any regulating authority as a Research Analyst or an Investment Adviser. Please Consult Your Investment Adviser before making any Investment/Trading decisions based on content posted in this Website. Here we write only what we do and all information post & nifty outlook in this website is for Educational purpose only
Copyright © DhanaYapp.com 2016. All Rights Reserved.